Bernette b48 Funlock Serger Coverstitch Machine with Exclusive Bonus Bundle
Bonus Bundle includes: Bernette Serger 6 Pack Presser Foot Set, 4 Cones of A&E Maxi-Lock Serger Thread in White, 4 Cones of A&E Maxi-Lock Serger Thread in Black, 30 Organ Universal Needles size 90/14 and a 5-year extended Warranty!
An affordable overlocker/coverstitch machine with a wide range of features and impressive stitch quality
The bernette 48 is the top model of the Funlock series and is a combination of an overlocker and a coverstitch machine. It has a total of 23 stitches: 15 overlock stitches, 3 coverstitches, 4 combo stitches and 1 chain stitch, overlock stitches with a stitch width of up to 7 mm, coverstitches with stitch widths of 2.8 or 5.6 mm and combo stitches with a stitch width of up to 10 mm. Color-coded thread paths make threading easier and in the needle area, a manual threader helps to threading the needles. The lower looper and chain looper have a mechanical threader. The knife is operated from below, which not only ensures a cleanly cut edge, but also safe handling, and it can be adjusted comfortably with one hand. The bright LED light provides a well-lit sewing and threading area. The bernette Funlock 48 has a sewing speed of up to 1300 stitches per minute.
2, 3, 4 and 5-thread seams

Accessories in the looper cover

Bright LED light

Differential feed infinitely adjustable while sewing

Easy threading due to the colour-coded threading paths

Including waste collector

Large working area to the right of the needles: 87mm

Manual needle threader

Sewing speed up to 1300 stitches/minute

Wide combo stitches: up to 10 mm

Wide coverstitches: 2.8 / 5.6 mm

Wide overlock stitches: 3-7 mm

Wide roll hem stitches: 1.5 mm
A wide range of stitches for beautiful stitching and seams
Your bernette Funlock 48 has a wide range of stitches: whether you require safety seams or edges with overlock stitching, coverstitches, stitches such as super stretch for highly elastic materials, flat seams, roll seams, roll hems or chain stitching – the possibilities with your bernette Funlock 48 are almost limitless.
Threading made simple
If you follow the color-coded threading paths of the bernette Funlock 48, threading is very straightforward. A separate needle threader and looper threading mechanism also make this easier.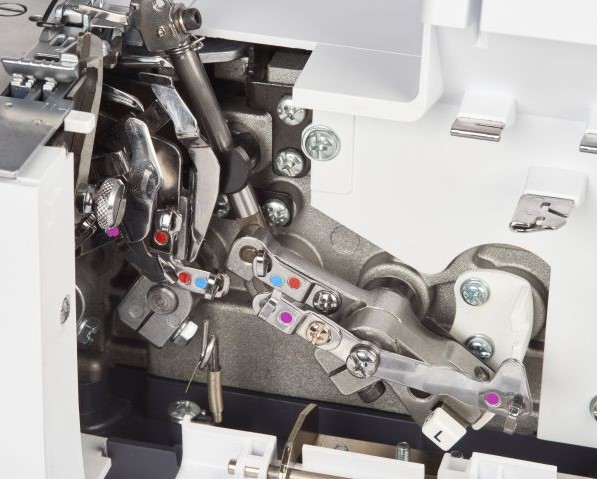 Large working area for large sewing projects
With its 87 mm working area, the bernette Funlock 48 provides plenty of space for larger sewing projects. Another highlight is the bright LED light, which ensures that the area underneath the needle is always well-lit.
High sewing speed for efficient operation
The bernette Funlock 48 allows straight lines of sewing to be carried out very quickly. With a sewing speed of up to 1300 stitches per minute and precise stitches, sewing projects take shape in the shortest possible time.
Features:
Wide coverstitches: 2.8 to 5.6 mm

Speed (stitches/minute): 1,300

Wide overlock stitches 3 to 7 mm
Included:
Standard presser foot Overlock/Cover

Screw driver (large size)

Oiler

Spool net (5x)

Spare upper knife (stationary)

Spool cap (5x)

Brush

Needle set (ELx705)

Needle Threader / inserter

Allen Screw driver (small)

Tweezers

Upper looper converter (ULC)

Spool stabilizer (5x)

Dust cover

Cut-offs Bin

Cover/Chainstitch Inserter
You have the confidence of a massive 10 Year Mechanical and 2 Year Electrical Warranty on a bernette sewing machine.
1 Review
Firstly, it arrived quickly and it was well packaged which was my worry when purchasing online - everything arrived without a single dent - these guys are great! Pros: love the stitch quality of this machine! I tried 4 layers of canvas and one layer of lace - no jamming! Amazing! It is a beast machine and very different experience from b78 which is all computer and buttons and smooth "ride", this machine feels like we are "back to basics" but all overlooks are. Switching from overlock to cover stitch is actually not that complex and easy after following directions a couple times. Cons: the only delta I have is the pedal, wish they would make the pedal to go smooth and slow before going full throttle. After a few days I used to it but it is definitely makes things complex in small curved areas. Overall it's a great and powerful machine that does amazing job even on stretch and thin fabrics and stitch quality makes everything look like it was made in a professional factory.