Bernette Funlock B44 Serger with Exclusive Bonus Bundle
Bonus Bundle includes: Bernette Serger 6 Pack Presser Foot Set, 4 Cones of A&E Maxi-Lock Serger Thread in White, 4 Cones of A&E Maxi-Lock Serger Thread in Black, 30 Organ Universal Needles size 90/14 and a 5-year extended Warranty!
bernette Funlock 44
The low-cost overlocker for beginners including 15 stitches
The bernette Funlock 44 offers numerous practical functions, giving you a straightforward introduction to overlocking. The Funlock 44 offers 15 stitches and provides a compact set of stitches that allows you to do all types of overlock sewing. It is easy to thread the looper and needle by following the coloured markings on the bernette Funlock 44. The knife drive is from below, so the stitch widths can easily be adjusted with one hand. The bright LED light provides good visibility. The Funlock 44 is quick, sewing up to 1300 stitches per minute.
- 2, 3 and 4-thread overlock stitches
- Accessories in the looper cover
- Bright LED light
- Differential feed infinitely adjustable while sewing
- Easy threading due to the colour-coded threading path
- Including waste collector
- Manual needle threader
- Sewing speed up to 1300 stitches/minute
- Wide overlock stitches: 3-7 mm
- Wide roll hem stitches: 1.5 mm
Beautiful overlock seams, even for beginners:
The bernette Funlock 44 is easy to operate, even for beginners. The 15 different stitches with 2, 3, or 4 threads ensure maximum flexibility when selecting stitches. At the same time, you always achieve a professional stitch quality. In addition to the 2, 3 and 4-thread seams, you can also provide your sewing projects with excellent rolled hems with a width of up to 1.5 mm.
Threading made simple:
The color-coded, open thread path makes the bernette Funlock 44 easy to thread by following the colored markings. A separate needle threader and lower looper threading mechanism also assist with threading.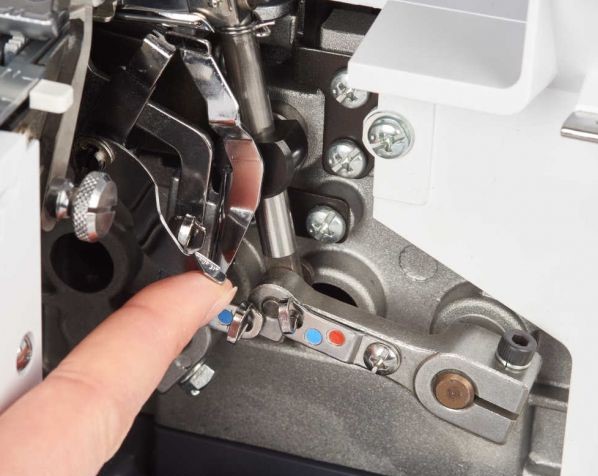 .
Plenty of space for your accessories:
The most important overlocker accessories are always on hand in the looper cover. Other accessories are stored in a separate box.
Precise and flexible overlocking:
With the bernette Funlock 44, your sewing is always uniform, even at 1300 stitches per minute. The overlocker even sews and cuts thicker fabric with ease and precision, in a single step. The seam allowances cut off during sewing drop into the waste collector that comes with the bernette Funlock 44.
What is the differential feed for?
The differential feed always ensures smooth seams with knitted fabrics and crimp-free seams with fine fabrics. By adjusting the setting between 0.6 and 2, however, deliberate crimping can also be created, e.g. for decorative ruffles.
Features:
Speed - 1300 stitches/minute

Stitch / feed adjustable - 0.6–2.0

Wide coverstitches 3 to 7 mm
Contents:
Standard presser foot Overlock

Screw driver (large size)

Oiler

Spool net (4x)

Spare upper knife (stationary)

Spool cap (4x)

Brush

Needle set (ELx705)

Needle Threader / inserter

Allen Screw driver (small)

Tweezers

Upper looper converter (ULC)

Spool stabilizer (4x)

Dust cover

Cut-offs Bin
Stitch Overview bernette Funlock 44
You have the confidence of a massive 10 Year Mechanical and 2 Year Electrical Warranty on a bernette sewing machine.